Bike stolen? You're not the only one... Every year, more than 400,000 bikes are stolen just in the Netherlands. However, there are now more and more tips and tricks to maximise the likelihood of getting your bike back to you.
---
It is important to note that the chances of being reunited with your bike are slim. The main reason is that most stolen bikes are not reported. If you do, and your frame number is registered, you have about a 1 in 20 chance of finding your bike. But we don't want to discourage you, because there are still plenty of success stories.
The following tips will give you the best chance of being reunited with your bike.
Let's get your bike back!
Before we start: it's going to be a quicker process if you have as much information as possible to hand. The police, insurance company and municipality will ask for it.
What you need:
Proof of purchase

: Preferably the invoice. If not, then the receipt or bank statement.

Frame number

: Not sure? Check your proof of purchase or contact the seller.

Bicycle key(s) + spare key(s)
A clear picture of the bike
Step 1: Check if the bike has been removed by the municipality
Sometimes your bike is not stolen, but seized by the local municipality. This happens quite often and especially in city centres. What many people do not know: the municipality registers the frame numbers and records the confiscation online. Should you find that this has happened to your bike, you can collect it from the bike depot for a fee.
Bike depots in the Netherlands register the bikes they have picked up through verlorenofgevonden.nl. You can search for items in your local depot by searching for the city where your bike was last seen.
→ Click here to see if your bike is in the bike depot.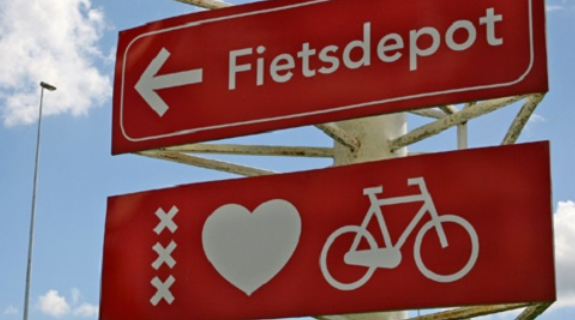 Step 2: Have a look around
Especially if the bike was not locked, there is a chance that someone has briefly used the bike. Often they are left at bike racks and most commonly nearby public transport stations such as for trains and buses, or popular areas to hang out like parks or streets with many bars or clubs.
We would definitely recommend looking online to see if your bike has been posted for sale - check for recently offered bikes on sites like Marktplaats and Facebook Marketplace for example, then search for you brand and model. Many bikes have been recovered or reported from finding them re-sold online - like this lady from the UK.
Step 3: Register the frame number
If the bike was purchased through BikeFair, this has already been done. You can then indicate in your BikeFair account that your bike has been stolen. Regardless, register the frame number with the stolen objects register. This way, if the bike is placed for sale online, it can be traced via the frame number, the bike brand or model and the location of the theft.
Not sure where to find the frame number? Read our blog about frame numbers here.
Step 4: Report the theft to the police
Although the police unfortunately often say that not much will be done with the reports, they still regularly recover bikes for their rightful owners. They can and do return lots of bikes in one fell swoop, for example if larger warehouses are raided or if gangs are broken up. There is also a higher chance of more expensive bikes being returned by the police.
Reporting a stolen bicycle to the police can now be done entirely online:
Step 5: Contact your insurance company
It is best to get in touch with them as soon as possible. Theft from your home (from your garden or shed for example) should be covered by contents insurance. However, if your bike was stolen when it was parked at school, work, at a square or another location, insurance might not cover it. 
You must be able to prove that the bike was locked. You will therefore need your key and/or spare key as proof of this. The amount and time of purchase of the bike are used to determine what portion of the value of the bike they will pay out.
Is the owner of a bicycle storage facility liable if my bicycle is stolen?
Only if you pay for a guarded storage facility. This includes if it is free of charge for the first 24 hours, as is the case at stations in the Netherlands. A deductible of €225 often applies to this liability.
You are personally liable if you use a parking facility (free and paid) where you do not have an agreement about security. For example, if your bicycle is stolen from a bicycle repair shop or other private property. Because you do not have an agreement about the security of the bicycle, an insurer or judge will not grant any liability.
How long after a theft can the bike be recovered?
If you are going to search for yourself, you need to take action immediately. Check the area, depots and websites regularly during the first month.  
After that, it can take a long time, but it's not a losing battle. Thanks to unique frame numbers, bicycles are returned to their owners even after a long time. 
If you find your bike within 3 years, you can reclaim it. However, you must be able to prove (e.g. by means of proof of purchase) that you are the rightful owner of the bicycle. If there is obvious damage to the lock and/or the frame number, you may also reclaim your bicycle outside this period. In that case, the trader could have suspected that it was stolen and is no longer protected by the law.
How BikeFair fights bicycle theft
Anyone can sell their bicycle to us. But how can you be sure that the bike is fair? We check the frame number and/or personal identification on every bike placed on our website. Frame numbers are checked in the national Stopheling database. In addition, they are registered in Bike Index, the worldwide search register for bicycles.
You also receive an anti-theft kit with every purchase, which makes the bike easier to find at depots. In our store you will find ultra-strong locks, insurance for bikes and blogs full of tips on preventing theft. It is our mission to help reduce bicycle theft!
Want to know more? Check out the checked & registered bikes on our marketplace, accessories in the shop or read more here!